Salesforce, a CRM? Yes, but also a powerful e-commerce solution.
Salesforce – B2B Commerce Cloud – Part 2
Summary of Part One
In part one of this article, we saw that since its creation, Salesforce has constantly extended the scope of its customer relationship management (CRM) platform to other traditional services for medium and large companies.
With regards to e-commerce, in addition to Demandware for business-to-consumer (B2C) and CloudCraze for business-to-business (B2B), Salesforce also acquired innovative and complementary companies and products including Chatter, Live Chat, Knowledge Management, Field Service, CPQ and MuleSoft.
Regarding these acquisitions, we believe that "… their integration will make B2C and B2B Commerce Cloud revolutionary solutions in the world of e-commerce for medium- and large-sized companies." (see Part 1)
Differences between B2C and B2B solutions
In part one, we focused on the main difference between the two products:
● B2C is designed to attract a large number of visitors
● B2B is for a smaller set of known customers/partners
B2C can be described as 'Google-centric'.
A B2C solution should make it possible to increase the visibility of e-commerce sites in search engines.
Generally speaking, some so-called SEO (search engine optimisation) functions help companies optimise titles, descriptive content and/or references to images so that internet searches display information from their storefront first.
A few years ago, a lot of attention was paid to the keywords related to products on offer, but that's changing. The incredible evolution of speech recognition and artificial intelligence (AI) means that semantics have taken over from keywords. Product descriptions, FAQs and 'knowledge' text must be completely rethought, mainly in B2C.
We've already discussed Salesforce's AI Einstein in Part 1, but are you familiar with Einstein Voice Assistant? Its integration into B2C is undeniable: "We also announced Einstein Voice, which opens up amazing possibilities across both B2B and B2C Commerce. Companies will be able to build their own voice bots on the Einstein Bot Platform that are connected to commerce and CRM data and integrated with smart speakers. This will usher in an entirely new era of voice-enabled commerce for every brand" (Commerce Cloud CEO Mike Micucci – 2018/10).
B2B is NOT Google-centric
Since B2B is reserved for orders from partners, distributors and large (customer) accounts, it doesn't make much sense to try to make a B2B storefront (or webshop) the leader in search engines. Even if B2B commerce allows you to activate SEO indexing, it's not a requirement. Your partners and/or distributors know the URL of your store by heart, and that's often enough. It therefore makes sense that you won't always find sites created with CloudCraze in search engine results, as they're not necessarily indexed.
Companies who want their shop to be indexed, while also working with partners or distributors, often opt for the establishment of two separate shops: one B2C shop, highly indexed, very attractive and oriented toward direct sales, and a second shop which is reserved for distributors and partners, but not highly indexed.
This is the case with Adidas, for example:
Adidas – B2C Store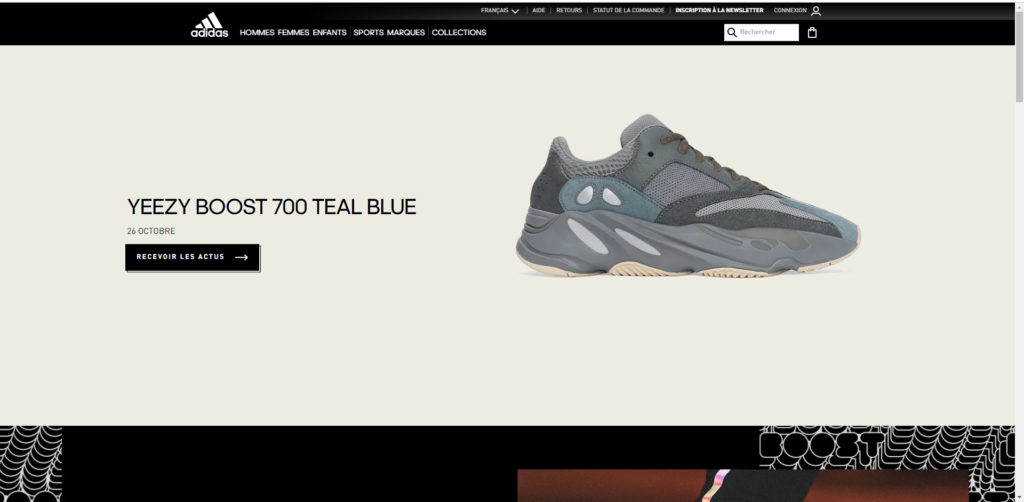 Adidas – B2B Store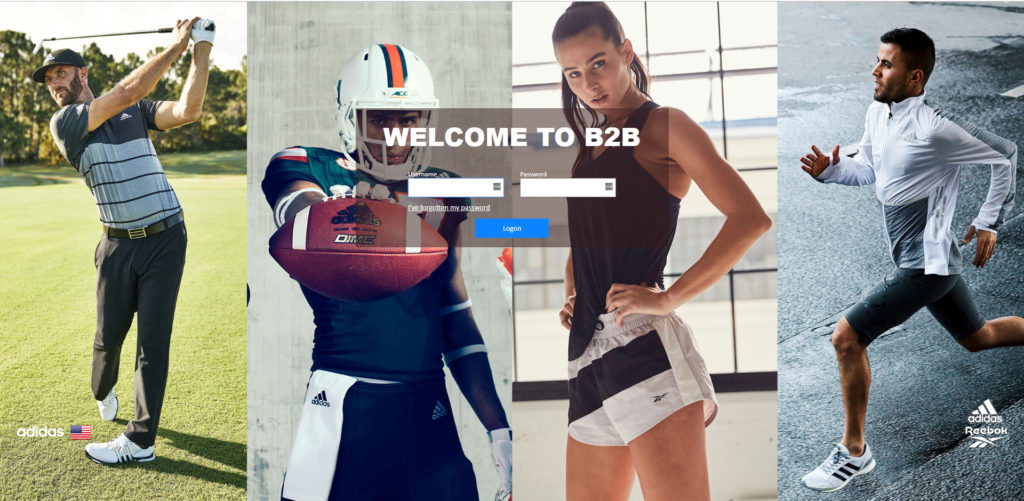 Other main differences
B2C:
Designed to show the most relevant products,
To let the visitor quickly add products to the cart,
To pay and finish the transaction quickly
B2B:
Designed for customers/partners who make large and/or frequent purchases
They should be able to reorder quickly and easily, based on an existing order, or an order template,
With multiple specific delivery and payment methods
B2B – Some Specific Functions
Multiple storefronts (webshops)
Let's take the example of a company that manufactures and sells boats, but also has a water sports clothing division.
The company has different types of shops:
A general catalogue-type e-commerce shop (with no prices and no ability to purchase), positioned as 'Corporate info'.
Three different shops for boat dealers and distributors:

One for the USA, with specific branding, specially targeted articles and prices specific to this region
A second one for the EMEA, with its own branding, products targeted to the region and different prices
A third shop, which is entirely different, for other regions of the world

Two additional shops for selling water sports apparel:

One for distributors
Another, with similar branding, but with occasionally different products and prices for partners

Two specific shops which offer both boats and clothing to smaller retailers

One with its own branding, with products and prices for 'Gold Dealers'
One with different branding, products and prices for 'Platinum Dealers'
B2B allows you to easily set up this type of organization: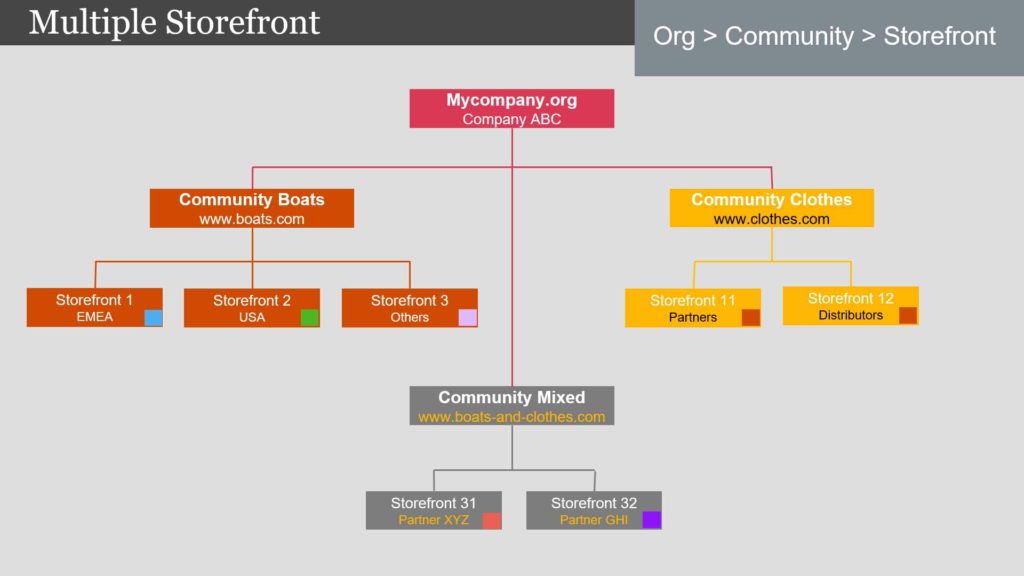 You can also take requests for specific prices, for a specific customer, and for a specific time period a little further. Here's an example:
Imagine a company called 'All4Build', which sells construction products to professionals.
Each customer is recognized when they connect to the site and they automatically see the prices assigned to them which are linked to the contract that was signed with the company. These prices can, in fact, be different for each dealer, and can even be for a limited time only.
Our fictional dealer 'Quali-Construct' was just awarded a large contract for the construction of 'La Cité Verte', a new development of 150 luxury flats in the South of Lille. Quali-Construct meets with All4Build's sales manager to ask for special deals for this important, high-end project.
All4Build has Salesforce's B2B Commerce Cloud and a highly motivated sales manager. For new construction site, and for a period of 36 months, it grants Quali-Construct an additional discount of 5.5% on a mutually-agreed upon list of materials.
During the 36-month period, for these specific products, Quali-Construct will automatically receive its additional discount for orders placed in the All4Build shop: an obvious time saver both for the salesperson managing the account and for Quali-Construct, which can place its orders whenever it wants without having to call on a rep to apply a particular discount.
Different Products Types
Generally speaking, on the B2C site, we find four types of products:
1 – Product
Simple, standard, or standalone product
2 – Bundle
A bundle is a collection of two or more existing products
The price for a bundle is up to the seller
3 – Fixed kit
A kit is a collection of two or more existing products
The program automatically calculates the price as the sum of the component products in the kit
4 – Aggregated product
An aggregated product provides the ability to define a single product that comes in multiple sizes or options
Each aggregated product has its own stock keeping unit (SKU)
Each option of an aggregated product must be defined as a product and have a price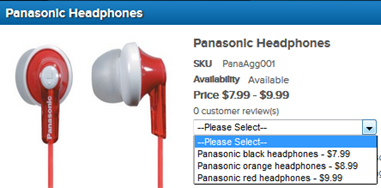 In addition to these four types of products, B2B Commerce offers:
5 – Dynamic kit
A product that's associated with a number of options, which:
Are required or not required
Are single-select or multi-select
Have predefined quantities and controls
Have validation rules
Result in a collection of items in the cart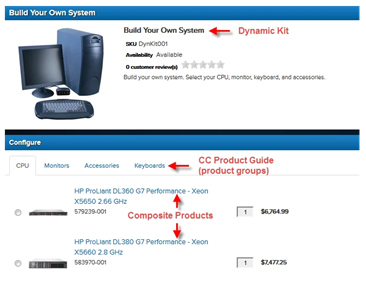 6 – Assembly Product
Assembly products can be sold as an entire system or as individual parts
Customers have the option of ordering a complete assembled product and/or component parts
You can include an interactive diagram of a complete product where customers can also access the component parts by clicking on the diagram

Subscription functionality
A subscription is an arrangement for providing, receiving, or making use of a product or service, on a continuing or periodic basis, via a payment plan.
Here's an example:
One global order for 50,000 packs of 500 sheets of printer paper at 3.00 euros per pack.
A first delivery, in January: 100 packs to each of the customer's 40 stores in France and Belgium
And, starting from February, 50 packs per month, per store, for 23 months
One invoice per store, per month (156.25 euros)
50,000 packs, divided by 40 stores, divided by 24 months
This possibility exists 'out of the box' in B2B.
Also in B2B Commerce Cloud
Shopping carts that can accommodate hundreds or thousands of different products per order (SKUs)
Custom product catalogues, for example for negotiated prices
Multiple payment types like credit card, contracts and purchase orders
Order template
CSV order upload
Multi-cart (for variants of a request, different sites, etc.)
Quote request from cart
And more!
The general evolution of B2B
2019 trends reports
For the next few years, analysts estimate that B2B will be two to three times larger than B2C. And that it'll grow faster, thus creating a large number of business opportunities.
What are the main trends emerging from the various studies recently published?
In the coming years, the majority of B2B of buyers will be millennials who are used to digital technology, voice commands and highly personalized tools. This simple observation allows us to understand the direction we're headed.
The use of mobile phones
The numbers suggest that, in the next few years, nearly 60% of B2B buyers will abandon suppliers whose orders are still placed through traditional sales services. Priority will be given to high-performance online shops with mobile access (source: Salesforce – State of the connected customer).
Omni-channel support
Whether it's specific information that's requested in the pre-sales phase or for support, the buyer should be able to contact you directly through the channel of their choice (SMS, chat, voice-chat, video-chat, social-media, email, telephone, etc.)
Voice commands
It's estimated that 50% of all searches will be by voice by 2021 (source: Comscore). Purchases made, in whole or in part by voice, are expected to reach 36 billion euros by 2022 (source: OC&C, 2018).
Customisation
In these same studies, nearly 80% of those surveyed said they expect B2B sites to have customized elements (negotiated prices, product lists, payment methods, etc.)
IA
Gartner predicts that by 2023, the majority of online stores using AI to help customers with their research (products, support, specific information, etc.) will increase customer satisfaction and revenue by at least 25% while decreasing costs by 25%.
What we offer through B2B Commerce Cloud
Let's take a look at the biggest trends:
The use of mobile phones
B2B Commerce Cloud is 100% mobile-optimized. It's also responsive, as it automatically adapts to various mobile and desktop formats.
Omni-channel support
The Salesforce Service Cloud is the essential complement for implementing a B2B shop. It already supports all the features mentioned, plus messaging apps (SMS, Facebook Messenger), live chat, video chat, email and phone integration.
Service Cloud also offers:
Omni-channel routing to direct calls to the most appropriate person
Entitlement processes, which let you design timelines that include all the steps that your support team must complete to resolve support records like cases or work orders
Service contracts, which let you represent various types of customer support agreements like warranties, subscriptions, or maintenance agreements
Voice Commands
Salesforce is also evolving very quickly in this regard. Below is an excerpt from an interview with Parker Harris (co-founder and CTO of Salesforce), published in 'B2B Marketing' in September 2018:
"We're in the midst of an incredible technological shift, where the power of voice is fundamentally changing the way we work. Admins will be able to build voice bots without coding and deploy them on Google Assistant and Amazon Alexa. The voice bot can also be customized to match company branding. Einstein Voice users will be able to update and pull out records by speaking via the Salesforce app or a smart speaker. It will also be able to read out metrics and priorities on a daily basis."

- Peter Harris
Einstein Voice was launched as a pilot in Summer '19.
Customisation
The standard version of B2B Commerce Cloud already allows you to customize prices, product lists, branding and more.
IA
Are you familiar with the Commerce Cloud 'Einstein'? Below's an extract from the Salesforce website:
"Commerce Cloud Einstein consumes and analyses customer behavior, product data, and order history as it happens, in real time. The result? Highly relevant experiences that automatically adjust and evolve with every choice a shopper makes."

- Salesforce website
Conclusion
The acquisition of CloudCraze in 2018 allows Salesforce to integrate 10 years of experience into understanding the needs and activities of B2B stores.
Since late 2018, Salesforce has committed considerable resources to ensure that the integration of CloudCraze is as easy and efficient as possible.
Previous acquisitions in the fields of omni-channel, voice, AI, mobile, CPQ, etc. are expected to make B2B Commerce Cloud the most advanced and suitable product for tomorrow's B2B shops by 2020.
---